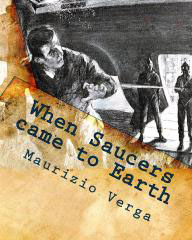 "When Saucers Came to Earth" is the very first book in the English language entirely devoted to the story of UFO sightings that have occurred in Italy.
Sightings of a special kind. The landings of "flying saucers" in the 1940s and '50s – and even earlier, during the nineteenth century! These were extraordinary encounters involving ordinary people, in a world that has ceased to exist. Begin a fascinating journey back to distant 1912, when an Italian farmer met up with a ghostly light on a foggy night in the northern Italian flatlands; and travel to the early morning of New Year's Eve 1954, when an odd-looking flying saucer with two "pilots" observed an old bell-ringer.
Over 100 amazing saucer landings are described in detail, all featuring sources and critiquing comments aimed at a better understanding of the follow-ups to – and the possible explanations for – every incident. Hundreds of maps, sketches, pieces of artwork, and newsclippings make this book a visual tour of the early years of the "flying saucer" phenomenon and myth.
Three extensive Appendices serve as an outstanding repository for Italian news reports and magazine covers dedicated to the landing cases covered in this book, and to the flying saucer craze of the era – plus, they offer an intriguing comparison between the images of saucers as reported by witnesses and those published in early science-fiction magazines and books.
"When Saucers Came to Earth" opens your eyes onto a time when Unidentified Flying Objects were still flying saucers manufactured by an advanced – yet terrestrial-like – technology.
More than 100 Italian UFO landings (mostly never published before in English language) are described in details. Each episode gets the most extensive coverage ever printed so far, including a full listing of all the avalable sources.
An exhaustive comment is devoted to each case. You can find additional information, collateral sightings and possible explanations, plus information and remarks about some classic cases you never found in UFO books!
Download a sample page (PDF format).
Enjoy updates, new cases and additional material available the blog of "When saucers came to earth". Visit it now.
 260 pages printed on quality semi-glossy paper. Large A4 size. About 200 illustrations.
The most comprehensive coverage of all early Italian UFO landings. Discover outstanding Italian saucer landings you never knew before because of the language barrier.
A "Premium" version of the book (printed in a few tens of copies) comes with a special DVD including five videoclips:
The Facchini Encounter (1950)

The Monguzzi Photo Hoax (1952)

Encounter in Cennina (1954)

Mr. Pugina meets a Martian (1954)

Celluloid Saucers (Science Fiction Posters)

A new edition of the book is currently distributed byAmazon and Createspace.
We recommend you to buy at Createspace, it is even faster and simpler!
TABLE OF CONTENTS
Foreword
Introduction
The Story of Italian UFO Landings
Appendix 1 – A Sampling of Newsclippings
Appendix 2 – Weekly Magazine Covers
Appendix 3 – Curiosities
Appendix 4 – Case Listings